Jobs Cairns and Queensland
Are you looking for a job in Cairns? There are many job opportunities in the region and with the assistance of a company like Signature Staff Cairns Recruitment Agency, you are left to enjoy the region's lifestyle whilst we do most of the hard work! All the tedious and time-consuming tasks are done for you, such as writing introductory letters and arranging appointments with prospective employers. And there is no charge for these services for job-seekers!
Business in Cairns enjoys a relaxed pace. Suits and ties are rarely seen, although this aspect is probably driven by our tropical climate more than anything else.
There are a large number of current and future construction projects in development, resulting in qualified tradespeople being in constant demand, with carpenter jobs Cairns and electrician jobs in Cairns for example.
The commercial and retail sectors also provide serious job opportunities within the region for Senior and Executive, Finance & Accounting, Administration, Legal, Sales & Marketing and Human Resources.
Personnel for Health and Community Services are also being sought, such as nurse jobs in Cairns.
The Cairns economy continues to experience extremely positive tourism activity indicators with over 2.5 million visitors to the region annually. With 20% of the region's jobs directly related to tourism, this sector is constantly seeking personnel on all levels.
Cairns is a region renowned for its transient staff. Leading operators recognise the importance of retaining their most important asset, human resources. Consequently, most organisations have sophisticated career development programmes, including certifications, cadetships, supervisory workshops and management trainee programmes. If you are willing to stay in Cairns or the region for some time and dedicate yourself to the task at hand, you may experience a short track to a professional career.
Signature Staff offers Cairns jobseekers a wide range of job prospects locally and interstate as well as career counselling. Signature Staff Recruitment Agency Australia has the contacts and knowledge to guide you in the right direction.
There are dozens of vacancies listed on the Signature Staff website – make sure to check our job board out.
Our sectors Accounting and Administration
Living & Working in Cairns
Visiting and working in Cairns provides visitors and residents with a great lifestyle. With the wonders of Great Barrier Reef only minutes away, the Wet Tropics Rainforests in our backyard and plenty of world-class hospitality facilities.
How things have changed since Captain James Cook sailed up the North Queensland coast in June 1770 and discovered the site where today's City of Cairns is located! Due to the rugged terrain, difficult waterways, tropical diseases and dangerous animals such as crocodiles, it took a further 100 years before white settlement would become established in the region.
It would have been impossible for those early explorers to predict that this area would eventually turn into one of the world's most sought-after destinations. Cairns is now a truly spectacular place in which to live and work. In 1984 Cairns was transformed from a sleepy regional town to the thriving City it is today through the opening of an International Airport and the subsequent tourism boom.
"Diverse in natural tropical riches, colorful and stylish, Cairns has something to offer everyone".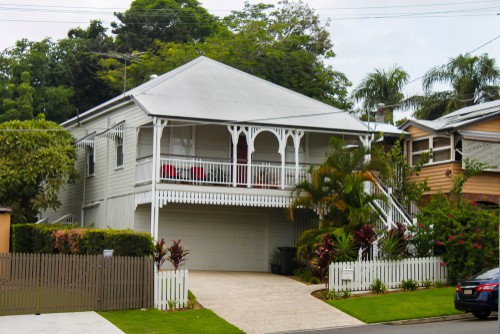 Cairns Accommodation
As a tourist destination, visitors can choose from a great variety of accommodation in Cairns. There is a wide range of styles, from campsites to super-deluxe international hotels, depending on your taste and budget.
There is plenty of Cairns accommodation available for short and long-term leases. Accommodation in Cairns rentals start from $150 per week for apartments and $300 per week for houses. There are also a significant number of fully furnished apartments, which can be ideal for newcomers to town. Younger people often choose to share accommodation, to keep costs down, so they can enjoy the myriad of facilities and Cairns lifestyle just that little bit more.
The best ways to find out what is available is through a Google search for "accommodation in Cairns", or by calling local Real Estate Agents. It is up to you to find what best suits your needs and budget. Best of luck in finding your perfect accommodation in Cairns.
Cairns Local Economy
Cairns and the region are highly regarded because of their location, infrastructure and world-class facilities and attractions.
It is Australia's northern gateway to Asia and beyond, and a major service provider into Northern Australia.
As a developed city in the tropics, Cairns has the technology, health, education and social structures with advanced technology, health, education and social structures.
Cairns and the region's population are estimated to grow by more than 90,000 by 2026, accompanied by major infrastructure development.
There is a clear sense of growth and prosperity in the Cairns economy, including tourism, construction, health, agriculture and marine industries.
The economic outlook for the region is diversifying as the growing population expands into untapped markets, creating new opportunities within many sectors.
Cairns International Airport handles over 130,000 aircraft each year and has strengthened its position as one of the best in the country. With the goal of establishing Cairns as an aviation maintenance hub for the Asia Pacific region, its future growth will be assured.
The region's abundant water resources continue to enhance the region's production of tropical fruits, dairy, beef, sugar and seafood.
Cairns Weather
Cairns' tropical weather is nothing short of sensational – particularly between April and December. The annual wet season occurs between January and March with torrential rainfalls, high to medium temperatures and ongoing humidity.
For first-time visitors to Cairns, this time of year could be a bit uncomfortable, especially if you are used to a Southern or European climate. But Cairns' tropical weather produces spectacular sights such as cascading waterfalls and vibrant rainforests brimming with life. It is also the best time of year for a fantastic fishing experience as Barramundi and other tropical fish are most active when the water temperature is at its warmest.
During the cooler months of June to August, you might encounter locals complaining about the 'bitter cold'. After all, the temperature gets down to a 'freezing' 15 degrees Celsius (60 F) overnight.
For regular updates on Cairns Weather click click here (Bureau of Meteorology)
Diverse in natural tropical riches, colourful and stylish, Cairns has something to offer everyone. We hope to see you soon…..
Cairns Attractions
There are so many things to do in Cairns! There is a range of unique attractions and activities to see and do when you visit Cairns. Make sure that you explore the spectacular Great Barrier Reef; no picture, film or book can do it justice.
Other things to do in Cairns may include taking a 4WD safari to the outback, walking one of the hundreds of Rainforest treks or travelling above the rainforest canopy on the Skyrail rainforest cableway. Try deepwater fishing, a day trip to the nearby islands, horse riding, skydiving or one of the other 600 tour experiences the area offers.
Other Cairns attractions include buying a piece of local art or perhaps visiting some of the best restaurants of Far North Queensland.
Shopping
Cairns offers a great range of shopping opportunities, from small boutiques to large shopping arcades and everything in between. Most of the well-known international brand-name items can be found in the City or in one of the many shopping centres. Shoppers can also find plenty of bargains at local markets. Many retail outlets are open seven days a week until approximately 8pm.
Hungry?
With hundreds of restaurants, there is no need to go hungry. Every type of eatery imaginable can be found from fine dining to takeaway. Make sure you try the world-renowned fresh seafood and the amazing variety of tropical fruit. Hundreds of talented chefs are working around the clock to provide world-class cuisine, second to none. Virtually all venues are open seven days per week. Dress standards for restaurants in Cairns are smart casual. Ties and jackets are "almost unheard of" in our balmy climate.For more information on activities in and around Cairns, check out Cairns Attractions.